If an organizer (or account owner) has invited you to become a manager on their Cheddar Up account, this is what you can expect.
Accept a manager invite
If you've been invited to become a manager, follow these steps to activate your manager role:
Look for an email in your inbox with the subject line of: [Organizer name] invited you to join them on Cheddar Up.
Open the email and click the orange "Accept Invitation" button.
You'll be taken to the the Cheddar Up sign up page. If you don't already have a Cheddar Up account, create one here. If you already have a Cheddar Up account, click "Log in" and enter your login information.
Next, you'll see a window that prompts you to accept your manager invitation. Click the orange "Accept Invitation" button.
Then, you'll arrive at the Collections Dashboard.
Depending on what permissions you've been granted, you may automatically see and have access to edit and manage one or multiple collections.
See it in action: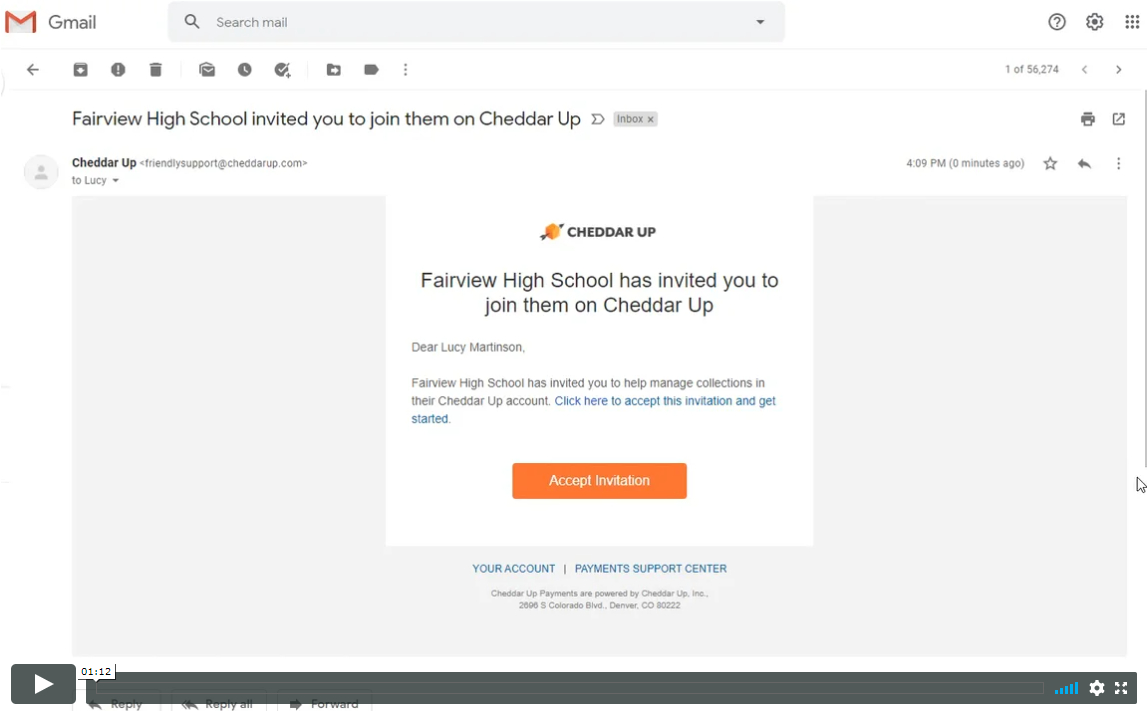 Create a collection under the organizer account
Depending upon the permissions you've been granted, you may be able to create collections on behalf of the organizer account in which you are a manager. Here are the steps to do so:
From the Collections Dashboard, on the left-hand side, under "My Folders", you should see a folder with your organization's name. Select one of the organization's folders.
Once your organization's folder is selected, click the orange "Create a Collection" button.
Note
Need to do or see more? If so, we recommend talking to the organizer (account owner) and asking them to update your permissions.
Common Questions
Do managers need to enter required profile information?
This depends. If you're only using your Cheddar Up account in a manager role, you do not need to worry about updating your account settings, because you will never be withdrawing money from the platform. If, however, you plan to personally use your Cheddar Up account to collect from groups (not as part of the organization that invited you to be a manager), then you would need to update your profile.
If I'm a manager on a collection, can I withdraw funds?
No. If someone invited you to be a manager on their account (or on a specific collection that belongs to their account), you will not be able to withdraw funds on any collections that belong to that account. Only account owners can withdraw funds on a collection. If you create your own (personal) collection (not as a manager), you will be able to withdraw funds on a collection.
Can I create personal collections on the same account?
Yes! The account you create on Cheddar Up when you accept a manager invite can also be used for your own personal group collecting. If you wish to use it this way, just make sure you're selecting (highlighting) one of your personal folders prior to creating a collection.