Organizers who collect shipping information on Cheddar Up, inevitably need a shipping label. Instead of writing down the shipping details and schlepping to the post office, or transferring that data from our platform to another, we recommend organizers save time and purchase (and print) a USPS mailing label right from Cheddar Up!
Purchase and print a shipping label
Take the following steps to purchase and print shipping labels:
From the Manage view, click the "Shipping" tab.
Find an order that needs a shipping label and click "Print Label".
Next, a window will appear pre-populated with your payer's address. Select your preferred USPS service type and package type (enter weight if requested) and click "Calculate Shipping Cost".
Confirm the estimated shipping cost and either select an already saved payment method or enter new credit card information to pay for the label.
Click the orange "Confirm and Pay" button.
On the next view, click the orange "Print Shipping Label" button.
This will open a new browser window with your label ready to print. Simply click print on your browser and you're ready to go.
Once purchased, organizers will receive an emailed receipt, and can also refer back to the "Shipping" tab and click the "Summary" button next to each payment to find the tracking number.
See it in action: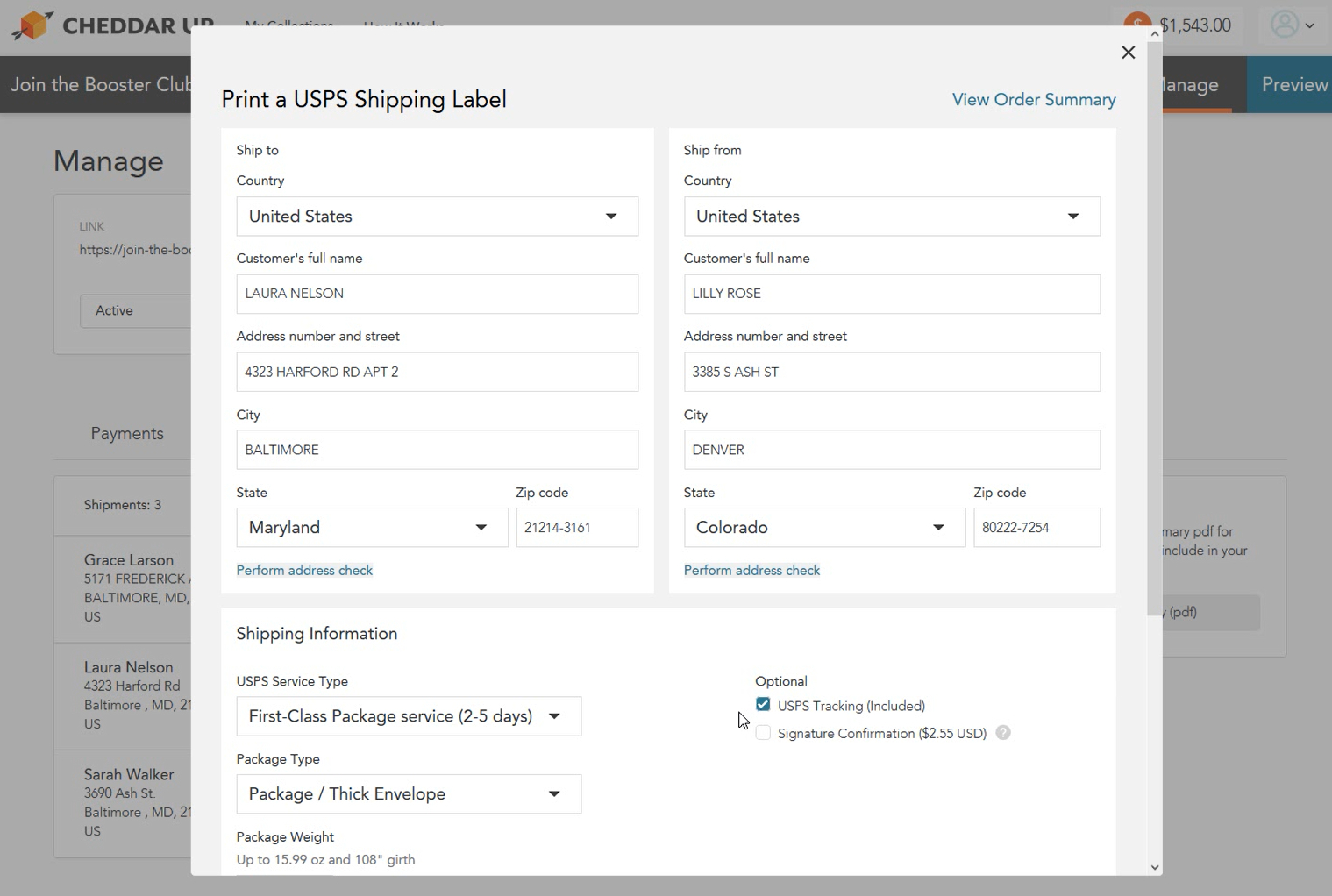 Common Questions
What USPS services are available?
You can choose from USPS First Class, Priority Mail and Priority Mail Express, with a variety of different package types available for each. With all USPS services, you also have the option of requiring a signature confirmation with your delivery (free with Priority Mail Express, and an extra $2.55 with Priority Mail and First Class).
Can I purchase a label directly from the Manage view?
Yes. If you prefer to purchase shipping labels from the Manage view, click the three dots to the right of each payment and click "Print Shipping Label" from the drop-down menu. This will also prompt you to purchase a mailing label.
How can I reprint my shipping label?
You can reprint a shipping label on the Cheddar Up platform within 24 hours of purchasing it. To reprint a label, go to Manage > Shipping, and click the gray "Summary" button, which will open a window. Click the "Reprint Shipping Label" link in the upper right to reprint your label.
Can I get a refund on an unused shipping label?
Yes. If you made an error when purchasing a shipping label or have a label that is unused, it can be refunded within 30 days of its purchase. To request a refund,
contact Cheddar Up
and include the payer name and tracking number on the label that needs refunded.