Cheddar Up simplifies collecting for organizers and sellers. Our specialty? Groups. But not just any group. Cheddar Up's sweet spot is helping individuals and organizations collect payments and information from groups with typically 10 or more people. This is when Cheddar Up's features and functionality are a true game changer. Learn how it works.
How we're different

Imagine if all the annoying aspects of collecting money from a large group could disappear. Unlike other payment platforms such as PayPal, Venmo, and Square, Cheddar Up's mission is to solve the pain points of group collecting, and wrap it up into one flexible, easy-to-use platform. Here's what makes it different:

Tracking, reporting and features made for groups


No more spreadsheets and no more money coming at you from every direction.



Friction-free payment


Anyone can pay

without

having to download an app or create an account.



Create your own custom collection




Maximum flexibility allows you to collect for anything...and make a page of your own.





Collect both payments and information (forms, sign ups or waivers)




Capture related information alongside payments to eliminate paper and data entry!





Easy account hand-off




We make it easy to transfer your account and collecting history to the next in line.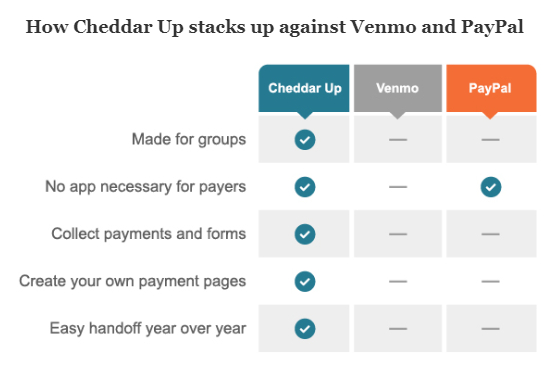 Trusted by thousands
Cheddar Up is used by hundreds of thousands of organizers, sellers, groups and communities across North America. We help collect millions of dollars each month and have major partnerships with large national organizations.
Common Questions
What does Cheddar mean?
With such an unusual name, this is a common question! "Cheddar" is slang for money.
Is it secure?
Yes. Cheddar Up is secure and PCI compliant. In addition, Cheddar Up never sees or stores any financial-related information. Information is sent directly and securely to our payment partner,
Stripe
, which processes billions of dollars annually, using Transport Layer Security (TLS).
Is there a dollar limit that can be collected?
No. Cheddar Up works with a large variety of organizations, many of which process large individual transactions, or large cumulative amounts. Each organizer is evaluated appropriately for risk, but there is no collecting limit.