When you collect using Cheddar Up, there's a minimal amount of information needed to validate identity and prevent fraud. Here we discuss what's needed and why, as well as tips for completing your profile.

WHAT'S IN THIS GUIDE:
______________________________________________________________________________
Minimum required information
The minimum information required to collect money on Cheddar Up includes:
The purpose of this information is to verify the identity of the individual collecting on the platform (and/or managing the Cheddar Up account). It is required due to federal regulation (the US Patriot Act) and to prevent online fraud.
Important
It's important to enter valid personal information when fields are requested. If inaccurate information is provided, it will be rejected by the payment processor and more information will be required (e.g., full SSN, photo ID, etc.).
Why we might need more information
In some cases, such as when large sums are collected or when the payment processor cannot validate the minimum information provided, we may need to collect more information. This additional information can include providing your full SSN or photo ID.
Complete your profile
All information noted above is requested within My Account. Upon signing up, you'll see an orange alert in the upper-right corner of the platform, prompting you to complete your settings.
While we give you a grace period in which to complete this information (and even allow you to create a collection and start collecting small sums immediately), we always recommend completing all requested fields as soon as possible.
Once within My Account > Profile, the required fields will be outlined in orange. Complete those fields, enter and confirm your mobile phone number for two-factor authentication, and click "Save".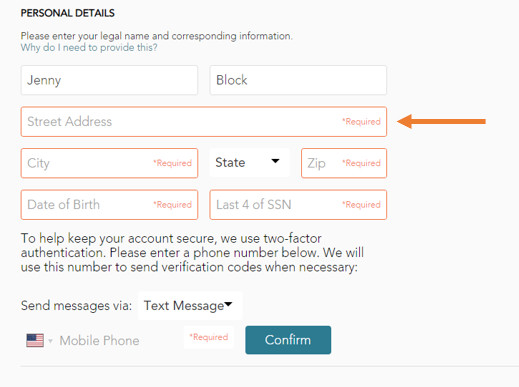 Select an account type (individual or organization)
Within your account profile, you'll see that by default, you have an "Individual" account. We recommend using this account type if you are collecting for something that is not associated with an organization or if you're collecting small sums.

We strongly recommend changing your account type to "Organization" if you are collecting on behalf of an organization that has an associated tax ID, and/or if you plan to collect large sums. If you change your account type to "Organization", you will need to provide two additional pieces of information including:
Business Tax ID
Business address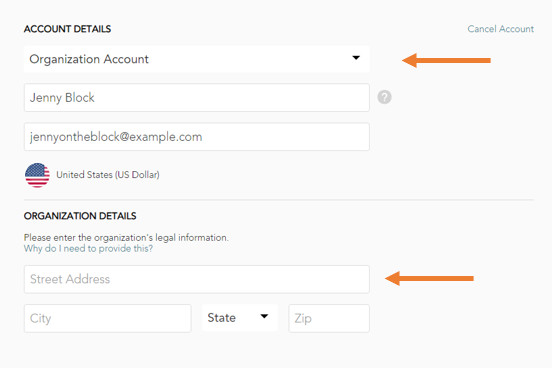 Important
If you plan to collect many transactions AND large sums, it's even more important to select the right account type for tax reporting purposes. The IRS requires Cheddar Up to provide a form called a 1099-K for United States accounts that meet ALL of the following criteria in the previous calendar year:
Account is based in the United States (organizers do not need to be US citizens), AND
More than $20,000 USD in total collections, AND
More than 200 transactions
The 1099-K is a purely informational form that summarizes the sales activity of your account and is designed to assist you in reporting your taxes. It is provided to you and the IRS, as well as some US states. If you set your account to "Organization" and provide a tax ID, this 1099-K will be provided to the associated organization instead of you as an individual.
Common Questions
What happens if I don't complete my profile information?
If you do not complete the required profile information, it's possible that paying on your collection page may be disabled. We send you an email to warn you about this potential outcome, but as a best practice, we recommend completing all profile information prior to sharing your collection with a large group of people.
Can I collect money before completing my profile?
Yes. We want organizers to be able to experiment with the platform and get up and running on the platform as quickly as possible. As a result, you can begin to create collections - and even collect small sums of money - prior to completing your profile.
What happens if I enter incorrect information?
If you enter incorrect information (i.e., incorrect date of birth, or a date of birth that does not align with the name, etc.), the processor will interpret this information as invalid and will begin a process to collect more information. Instead of giving you the opportunity to re-enter the last four of your SSN, it will request your full SSN. To avoid the need to provide more detailed information, we encourage organizers to enter correct information carefully the first time.
Can I change from individual to organization after my account is verified?
Yes. But in order to do so, please first
contact Cheddar Up Support
. In order to make this change after your account is verified, Cheddar Up Support will need to assist you.