Link bank account
Take the following steps to add your bank account to your Cheddar Up account - a necessary step prior to withdrawal. Please note that you may only add either a US or Canada bank account.
From My Account, select "Withdrawal Settings" from the left-hand menu.
Click "Add Account".
Enter your bank's routing number.
Enter your bank's account number.
Enter a nickname or identifier for this account (since you can add numerous bank accounts, this is a helpful tool for the organizer to distinguish between bank accounts).
Click "Save".
NOTE: Upon adding a bank account, you'll also need to confirm account control via two-factor authentication. In addition, whenever you add a bank account, for security measures, Cheddar Up will send the organizer an email notifying them of the change.

Initiate a withdrawal
There are several places to initiate a withdrawal on Cheddar Up, including the Collections Dashboard or the Manage view. One great thing about Cheddar Up is that all reporting is silo-ed, so there's never a question of where funds came from. This also applies to withdrawals. By design, even withdrawals are done on a collection-by-collection basis so organizers can have better reporting. Wherever you are starting from, take the following steps to initiate a withdrawal:
Click the "Withdraw" button.
This opens a global withdrawal view that will list all collections with an available balance. Identify the collection in which you want to make a withdrawal and enter the amount to withdraw.
From the drop-down menu, select the bank account where the funds should be deposited.
NOTE: Upon making a withdrawal, Cheddar Up will send the organizer a confirmation email confirming the withdrawal. A history of all withdrawals on any given collection can be seen within Manage > Balance Summary.
Fund flow time frame
It's important to be aware of all factors that can affect withdrawal timing. These include:
Credit card payments take 1-2 business days to process.
Echecks (electronic checks) typically take up to 5 business days to process. Please note that echeck processing can be expedited for approved Cheddar Up partners.
Payments will first show as "pending" in the collection's Manage view.
Once payments have processed, their status will change to "cleared"; they'll then be available for withdrawal.
Once a withdrawal is initiated, funds deposit to the linked bank account in 1-3 business days (see note below).
See it in action: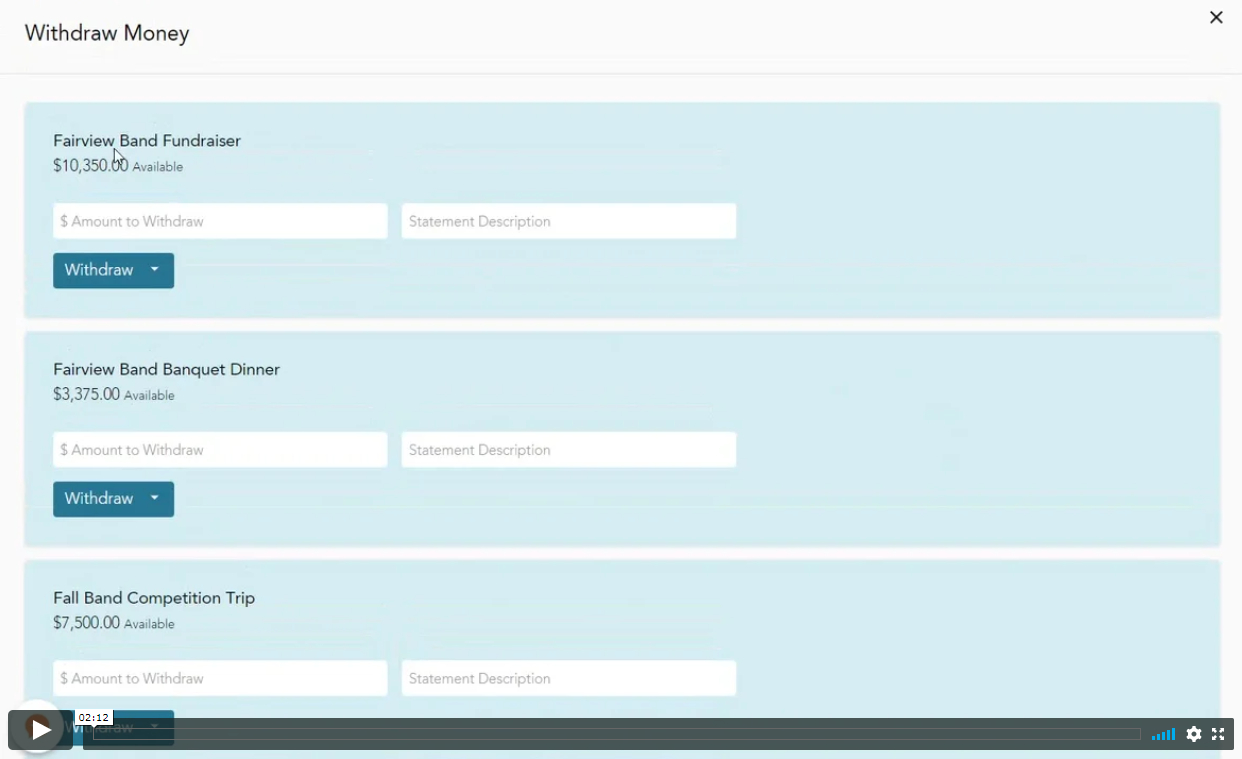 Common Questions