Link bank account
Take the following steps to add your bank account to your Cheddar Up account - a necessary step prior to withdrawal:
From My Account, select "Withdrawal Settings" from the left-hand menu.
Click "Add Account".
Enter your bank's routing number.
Enter your bank's account number.
Enter a nickname or identifier for this account (since you can add numerous bank accounts, this is a helpful tool for the organizer to distinguish between bank accounts).
Click "Save".
NOTE: Upon adding a bank account, you'll also need to confirm account control via two-factor authentication. In addition, whenever you add a bank account, for security measures, Cheddar Up will send the organizer an email notifying them of the change.

Initiate a withdrawal
There are several places to initiate a withdrawal on Cheddar Up, including the top navigation, the My Collections page or the Manage view. One great thing about Cheddar Up is that all reporting is silo-ed, so there's never a question of where funds came from. This also applies to withdrawals. By design, even withdrawals are done on a collection-by-collection basis so organizers can have better reporting. Wherever you are starting from, take the following steps to initiate a withdrawal:
Click the "Withdraw" button.
This opens a global withdrawal view that will list all collections with an available balance. Identify the collection in which you want to make a withdrawal and enter the amount to withdraw.
From the drop-down menu, select the bank account where the funds should be deposited.
NOTE: Upon making a withdrawal, Cheddar Up will send the organizer a confirmation email confirming the withdrawal. A history of all withdrawals on any given collection can be seen within Manage > Collection Summary.
Fund flow time frame
It's important to be aware of all factors that can affect withdrawal timing. These include:
Credit card payments take 1-2 business days to process.
Echecks (electronic checks) take 2-3 business days to process.
Payments will first show as "pending" in the collection's Manage view.
Once payments have processed, their status will change to "cleared"; they'll then be available for withdrawal.
Once a withdrawal is initiated, funds deposit to the linked bank account in 1-3 business days (see note below).
See it in action: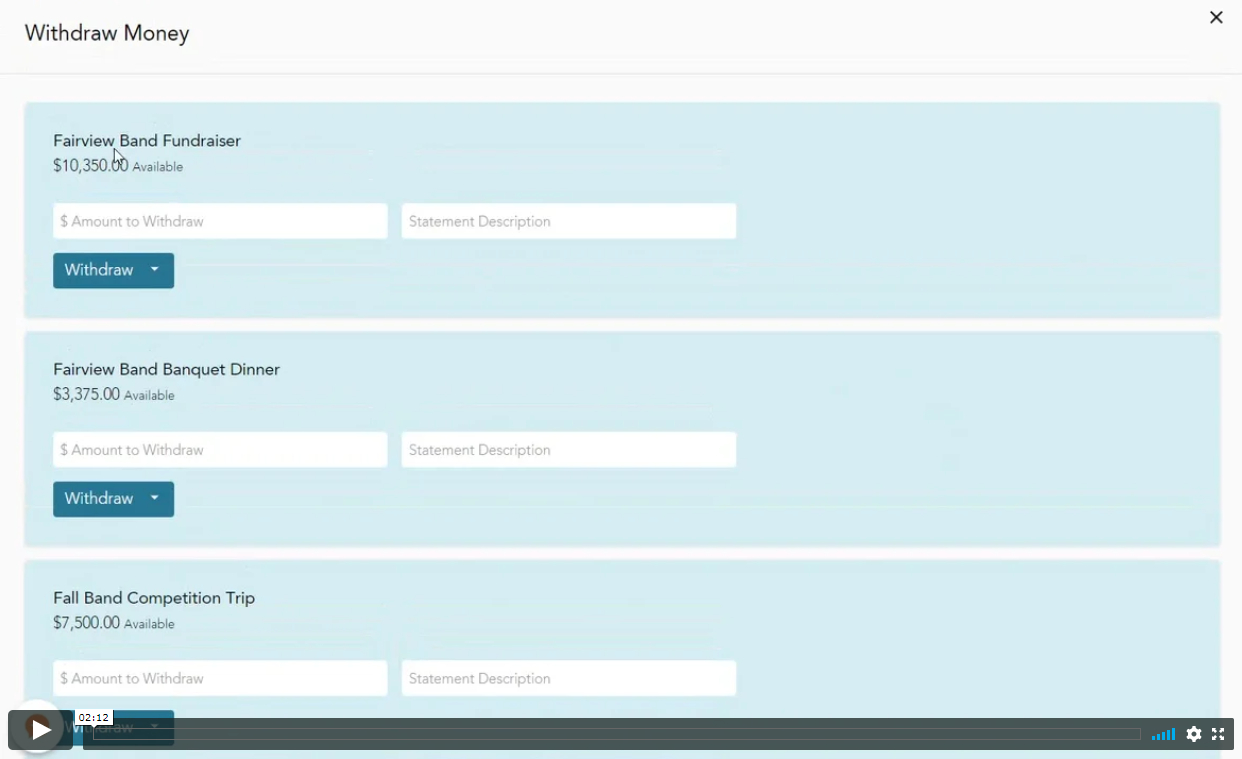 Common Questions