Collecting payments and information from groups oftentimes requires a transition from online payments to in-person (or point-of-sale) payments. Fortunately, Cheddar Up can serve both needs for group organizers – keeping all payments within one platform. Cheddar Up's iOS and Android mobile apps and card reader create a seamless point-of-sale solution for group organizers.
Collect in-person payments
Cheddar Up has point-of-sale functionality built into its mobile apps. It's perfect for collecting for events, camps, classes, etc., where an organizer begins collecting online payments weeks in advance, but then needs to collect more payments in-person the day of the event.
Collections created on Cheddar Up can be seamlessly managed across both its web platform and mobile apps, which means all funds (online and in-person) remain tracked and located in one spot.
Here's how to collect using Cheddar Up's point-of-sale functionality:
If you haven't already, create a collection (using either our website or mobile app).
Log into your Cheddar Up account on the the mobile app.

Make sure Bluetooth is enabled on your device. You can do this by clicking the Settings app on your device and toggling Bluetooth "On."

Tap on the collection in which you plan to collect.
Click the "Point of Sale" button.



You are now ready to start accepting point-of-sale payments.

Tap the item(s) the customer is purchasing to add it to the cart.
Click "Checkout". Upon clicking "Checkout", you'll be prompted to enable location services. Learn more here.
If your collection has forms on it, you'll be prompted to complete any required form fields, and click "Save". If no forms exist, skip this step.
Select the customer's payment method – credit card or cash/check - and click "Pay Now".
Turn on the Cheddar Up card reader and tap, dip or swipe the credit card. Please note that if you are using the dip method, be sure to NOT remove the card until the message on your device indicates to do so (similar to checkout at any retail store). If the customer is paying with cash or check, enter the amount tendered and the app will record the payment and calculate the customer's change for you.

Don't have our awesome card reader?

For the most efficient point-of-sale processing, get one

here

. In addition, you can also scan most credit cards using your smart phone's camera or enter the card number manually).

Know when to tap, dip or swipe!

Dip: If a card has a chip, use the dip (if in doubt, start by dipping).
Tap: If a card has the NFC symbol (or if using Google or Apple Pay), tap.
Swipe: If a card does NOT have a chip and ONLY has a magstripe, swipe.

Have the customer enter their signature on the device and click "Done Signing" when prompted (go here to learn how to skip the signature step).
On the Receipt Information view, fill in the customer's name and email. If you wish, you can skip this step and simply click "Done". If you skip this step, the customer will not receive an email receipt and you will have no record of who made the payment. Learn more here.
Click "Add a New Payment" to accept your next POS payment.
Key Point-of-Sale Tips:
If efficiency is important to prevent long lines, consider taking the following actions:
Eliminate as many item questions and form questions as possible (delete any fields that are not critical for in-person checkout).
Consider skipping the "Receipt Information" view, which is the last step of a payment. If knowing the names and emails of your payers (and who bought what) is not critical, simply skip the name and email fields and click "Done".
Consider disabling customer signatures, which can be disabled within Point-of-Sale Settings.
See it in action: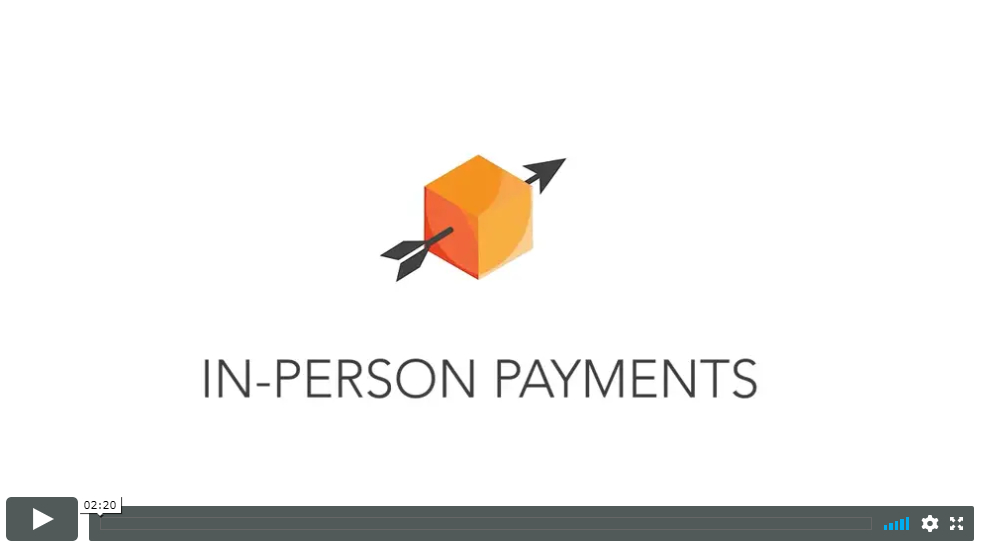 Common Questions
Do I need an Internet connection to use point of sale?
Yes. You need to have a reliable Internet connection in order to successfully accept point-of-sale payments on the Cheddar Up mobile app. We hope to be able to support offline point-of-sale payment processing in the future, but at this time, an Internet connection is required while accepting payments.
Why do I need to enable location services and how do I do it?
Turning on location services enables geo-location and is required when using Cheddar Up's point-of-sale features. Cheddar Up needs to know where transactions take place to reduce the risks associated with those transactions and to minimize payment disputes. Go
here
to learn how to enable location services.
How do I scan a credit card?
If your customer is using a credit card with raised (or embossed) numbers, you have the option to scan the credit card information using your smart phone's camera (instead of using a credit card reader or entering the number manually).
To scan a credit card, after clicking "Pay Now" in the POS flow on the mobile app, click the "scan card" button. This will prompt you to give Cheddar Up access to your phone's camera. Click "OK" to this request. Next, you'll want to hold the credit card in the palm of your hand in front of your smart phone's camera. Hold it until the card is outlined entirely in green, which indicates a successful scan.
Please note that scanning a credit card does NOT take a photo of the card. Instead, it simply replaces the job of a card reader and pulls in the credit card numbers to process the payment. Please note that while this method can work well, the quickest and more superior method of processing point-of-sale payments is by using our card reader.
Can all credit cards be scanned?
No. Credit cards without raised or embossed numbers (printed only) cannot be scanned.
Can I disable signatures for point of sale?
Yes! Need lines to move faster? Disabling signature is a great option. Go to
Point-of-Sale Settings
to learn how to disable signatures.
Are there cons to not collecting name and email on POS?
If there are any issues with a payment - such as a dispute or the need for a refund - not being able to associate unique payments with unique payers can be problematic. You'll want to weigh the pros (speed) and cons (lack of reporting) when you decide to skip Receipt Information during point-of-sale checkout on Cheddar Up's mobile apps.
How do I turn off the mobile app payment notifications?
For both iOS and Android, go to your Settings app and tap Notifications. There, you'll see a list of your apps that can send notifications. Find and tap the Cheddar Up app, and toggle off "Allow Notifications".
Can customers pay by echeck with point of sale?
No. Because it's not widely accepted to share bank account information for an in-person transaction, the echeck payment method is not an option when using point-of-sale payments. The customer can choose from credit card and cash/check.
Can I still use the older Cheddar Up card reader for POS?
Yes. Prior to introducing our Bluetooth card reader, Cheddar Up sold card readers made for iOS and Android devices. While those card readers are no longer sold, they still work with the Cheddar Up mobile apps.