There are two options for how you can have your items display on your collection. A "list" format or a "gallery" format. This article reviews both formats and the benefits of each.
Two display options

Let's start by defining the two display options:

List format

The "list" format displays items in wide rectangular blocks across the collection. It's best for items with long or important item names and items that do not have images.



Gallery format
Set display format

By default, your collection will be in "list" format. To change it to "gallery" format, do the following:
On Build > Items, click "Display Options".
Select either the list icon (three lines) or the gallery icon (four squares).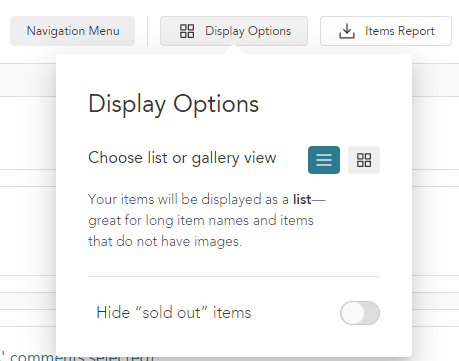 Note
For most organizers, our system will default to the "list" format (some partners will default to "gallery" format). The display option can be changed at any time from the Items step when building a collection. This will set the default view for your payers. However, visitors can also change the format at their discretion when they view your collection.